This site is dedicated to the up close examination of beautiful teen bodies! Our camera explore their most intimate parts in extreme close up as they masturbate and orgasm... Imagine the most beautiful girls, revealing every detail of their intimacy, in real FULL HD (1080!)
Our site's primary focus is to provide quality HD porn clips of girls masturbating like they would do at home. We shoot our own, fully exclusive HD videos. Explore beautiful teen bodies, scrutinize their pussy close up and their orgasms with our HD cameras positioned a few inches from their sex! Watch a perfect beauty caressing each body part, pleasuring herself, see the elasticity of her boobs, watch her booty shaking and bouncing, explore her vagina contracting of pleasure when she masturbates, see how her pussy juices are flowing, how her clit is tensing up when she's about to cum, see real squirting orgasms in close up!
You will be stunned to see how beautiful and complex is a tight teen pussy when it enjoys a REAL orgasm. These beauties' little secrets are a MUST SEE in close up and in High Definition! Discover the true beauty that lies in the deepest intimate parts of the female body when a young woman gets aroused, see how her pussy gets soaking wet with every new drop of pussy juice, how her vagina muscles are squeezing intensely when she orgasms…Explore every square inch of the most beautiful teens from the wide shot to the extreme close up, follow every crease and fold of these virtually unexplored territories. Sit down, relax and get ready to cum like you never did with a sexy 18 year old teenager discovering her pussy, deflowering her asshole... in real full HD quality!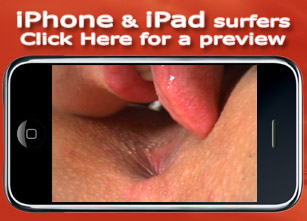 This beautiful brunette just turned 18y old and feels an urge to satisfy her burning desire to fill her holes up. She cums up to four times, each time in closeup... There's some great teasing scenes, cameltoes, vagina gapes with and without speculum (she's good with her PC muscles control). She also glides an ice cube over her smooth pussy before popping it into her steamy snatch, rubs her clit with it and masturbates again, then she fucks herself in both holes and cums in an explosive orgasm, as her love fluids start oozing from her cunt. A wild 10 minute anal scene! Continue?


We were excited to reunite Emma, a very hot squirter, and Emily whose predilection for anal sex makes her the nastiest girl of 18CloseUp. Well, we certainly can affirm that they surpassed our expectations! Both girls start exploring each other's body, playing with ice, kissing, pinching their nipples and rubbing their boobs against one another. Lying down, Emma spreads her legs and Emily licks her gaping pussy, fucking her vagina with her tongue and stimulating Emma's G-spot with her fingers to make her squirt. In the second shooting, Emma slides her tongue deep into Emily's ... Continue?


This beautiful blonde with a tight body has a wonderful smile. But we particularly love her large clit and her ability to squirt! There are 3 scenes in this video with some great upskirts, speculums, anal toys and gapes, fingering and squirting orgasms. The shooting starts with her cameltoe. Elektra takes off her panties and rubs her clit. She starts using a vibrator on her clit and slides a large dildo in her pussy untill she orgasms. After a short pause, she delicately rubs her erected clit with her fingers and brings herself to at least two squirting orgasms. Continue?


Sofia appears in two amazingly hot 18CloseUp videos. Sofia is just the perfect amateur. I mean, she was, because she's now a real porn star. But we got her at her debuts, it was her first time on video and she was very nervous as you can see in her first video. Our camera explores her cute teenage body as covers her body with oil and slides a few ice cubes over her boobs, her mouth, her pussy and asshole. She also fingers her vagina and rubs her clit several times and experiences some wild and intense orgasms. What seems to turn her on is to tease the entrance of her vagina with two or three fingers. Continue?


Ariana is a bit shy. She's got a beautiful body and her breasts are incredibly firm. Among other great closeups, the speculum scene is really a must see. Ariana oils up her hot teen body, starting with her perfect C cup breasts, then going for her tiny pussy and her beautiful ass. Like many girls, when given the choice, Ariana chooses the vibrator to masturbate, instead of the dildo. It takes her 15 minutes but she cums hard and wet. Then she grabs a speculum to show a clearer view of her vagina walls and her pink cervix. Her pussy is very tight and drowned in an ocean of moist pussy juice. Continue?


This young pornstar shows her beautiful shaved pussy in closeup and stuffs her panties deep inside her vagina. Flexing her pussy muscles, she squeezes the panties in and out of her pussy before she slowly pulls them out. Then, holding a vibrator and a dildo, she stimulates her clitoris combining clitoral and vaginal stimulation to make herself cum. She then slides a glass dildo in her ass and starts riding it up and down, fucking herself furiously... Continue?


Don't get abused by her angel face, Lisa is a super fine big girl who knows exactly how to fuck you into heaven. She loves to fuck her tight little pussy hard and her 3 orgasms in this video are totally wild. This lovely and very naughty brunette caresses herself as the camera explores her nipples. She grabs a vibrator and rubs it against her clit. She's so turned on that she starts to suck a dildo right before she cums. But Lisa can't be stopped once you get her going. So she continues to fuck herself with the dildo and, with her other hand, she rubs a vibrator on her clit. She brings herself to a wild second orgasm. In the second part... Continue?


Julia is a 19 year old Dutch blonde. She works as a model and a lap dancer, and loves showing off her body. But what we really like about her are her wet and juicy orgasms. She starts massaging her ass with oil, shaking and slaping her ass cheeks. Julia spreads and stretches her vagina as the camera plunges to examine her intimacy in detail. She then lubes herself up and inserts a clear plastic speculum to gape her pussy wide. Time for a gyno exam, closeup! She starts masturbating, slowly at first, then almost frenetically. As she cums, a river of her orgasmic goo starts dripping out of her pussy! Continue?


This long lesbo scene is one of the hottest we've ever shot! Lilly and Mya get their perfect teenage bodies explored in every way, gaping their vaginas, licking, tongue-fucking each other... Mya rubs Lilly's G-spot and makes her squirt multiple times! Then, as Lilly rubs her clit, Mya grabs a huge dildo and fucks Lilly's delicate butt, gapes it indecently, and shoves her tongue deep into her asshole as Lilly cums with the magic wand vibrator. Lilly returns the favor: Mya can hardly bare the powerful sensations of the Magic Wand, it's so strong it's almost painful, but the toy triggers the most powerful orgasm she ever had. Continue?


This gorgeous blonde with D-cup boobs was filmed with 2 cams, so this video features some split screen action and Orgasm Replays from a second point-of-view. The two cam perspective really add some value to the body exploration scenes and orgasms, showing Angel Wicky cumming in closeup and in larger shots... There are 5 masturbations scenes, where Angel cums many times... Don't miss the vibrator scene, with the thrusting rabbit stroking her sensitive clit, making her vagina leak juices, her body squirm in spasms of orgasming pleasure, and her pussy to drip wet and messy! Continue?